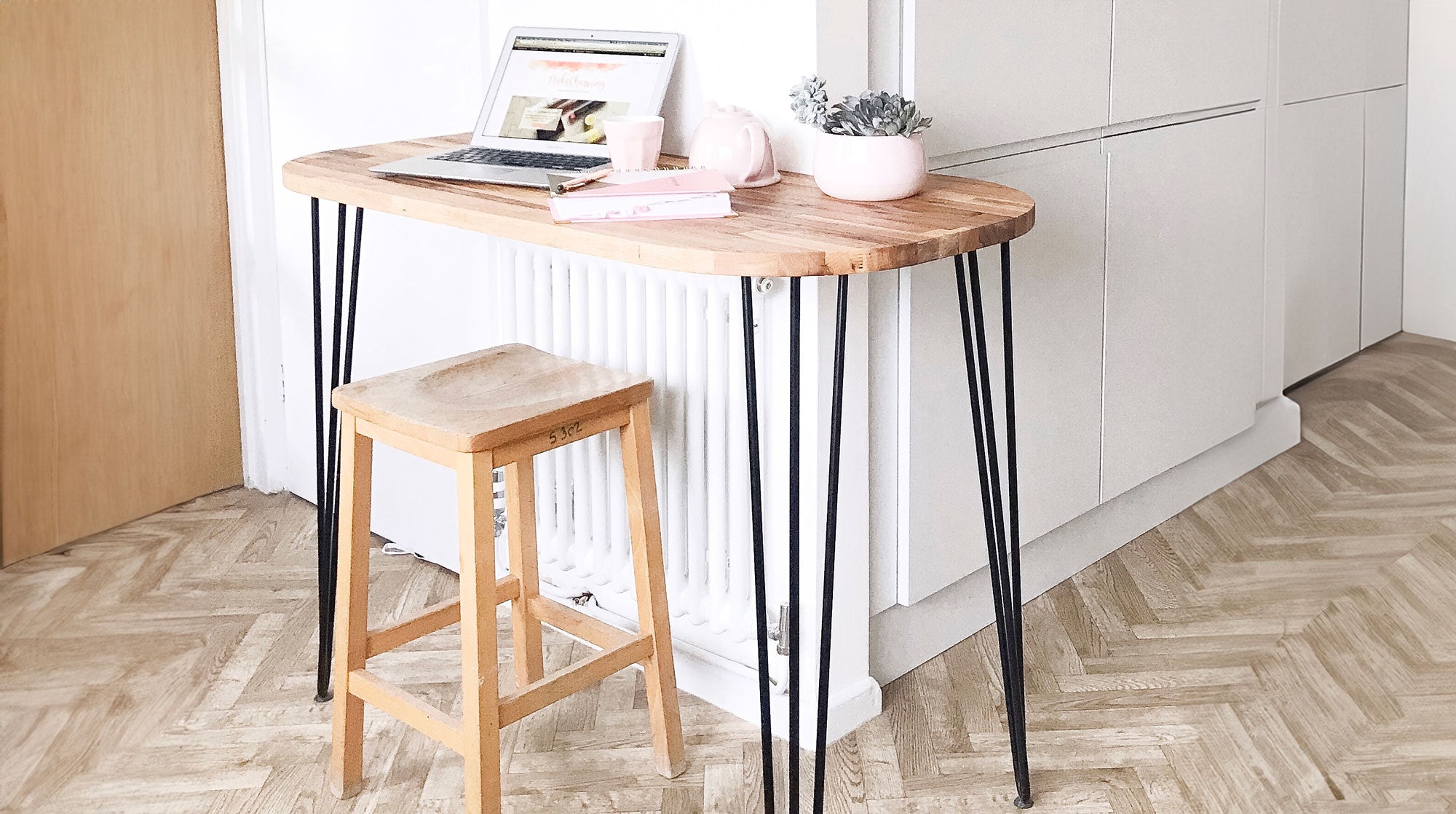 Breakfast Bar Legs
Find the perfect breakfast bar legs today and see the Hairpin Leg Co. difference firsthand!
Filters
Sale price

From $34.00
Regular price

$80.00
Sale price

From $41.00
Regular price

$103.00
Get Sturdy, Sleek, Stunning Breakfast Bar Legs at Hairpin Leg Co.

Immerse yourself in a world where functional elegance dances with contemporary flair. Welcome to Hairpin Leg Co., where we redefine the essence of furniture with our curated collection of breakfast bar table legs. 

These legs aren't just a furnishing component but a statement of style. They're crafted for creators and designed to dazzle. Here's what our customers loved most about them:

"Excellent quality and very sturdy. Extremely happy with the outcome. Next time we'll be bolder and go for one of the colours!" - Mike H.

"Fantastic quality product! So pleased with the finished look! Can't wait to order from The Hairpin Leg Co again for our next project!" - Amy D.

"High quality and the colour is amazing! So vibrant, exactly what I wanted. Easy to install, finishes the table perfectly." - Laurie P.

The Hairpin Legs Difference: Why Our Customers Shop With Us

We've spent the last decade building a reputation of excellence for ourselves. Our customers have come to expect the best from us, and we deliver time and time again.

But, if you're new here, you may be wondering what makes our selection of breakfast bar legs so special. Here are a few of the highlights:

Crafted for Creation: Every hairpin leg at Hairpin Leg Co. is a tribute to the DIYers, artisans, and professionals who bring visions to life. Our breakfast bar table legs stand as pillars of reliability and aesthetic sophistication, ensuring your creations captivate at every glance. Whether you're here because you want to elevate your home or you're shopping for your business, we're honoured to serve you.
Time-Honored Elegance: While innovation drives us, it's our respect for history that sets us apart. Each leg is a homage to the iconic designs of the 1940s by the legendary Henry Glass. With the elegance of the past and the technology of today, we craft legs that are timeless in their appeal.
The Spectrum of Sizes: Our commitment is to cater to every vision. Whether you're designing a cozy coffee nook or a lavish breakfast bar, our range, spanning from 10cm to 102cm, ensures you find the perfect match. And for those endeavors that demand strength, our heavy-duty variants promise unwavering support, holding over 60kg with finesse.
A Palette of Possibilities: We understand that every space tells a story. Our myriad finishes, from the sleek allure of powder-coated paints to the raw magnetism of steel or the shimmer of brass, copper, and chrome, ensure your tale is told in the hue you envision. And for those sun-soaked patios and breezy balconies? Our zinc finish promises enduring brilliance.

Trust is the cornerstone of our bond with our esteemed customers. It's a belief rooted in our quality, but also our promise of satisfaction. If, for any unforeseen reason, you find our product falling short of your expectations, our 60-day return policy is a testament to our commitment to your happiness.

This, coupled with our fast & free shipping, has our customers coming back for more time and time again. So, what are you waiting for? Shop now and harness the power of Hairpin Legs!

Find the Perfect Set of Breakfast Bar Legs Here Today!

Venture into our exquisite collection and embark on a journey of design and innovation. Each breakfast bar leg at Hairpin Leg Co. is a piece of art, curated with passion, and crafted with precision.

Want to explore other types of legs we have to offer? Some of our most popular collections include our footstool legs, bed legs, desk legs, cabinet legs, and bar table legs. But, there are plenty more where that came from!

With a legacy rooted in history and an eye set on the future, we invite you to experience the harmony of form and function. Be it the subtle charm of a minimalistic space or the grandeur of a lavish setting, our breakfast bar legs are designed to adapt, accentuate, and amaze!
FOR MAKERS, BY MAKERS
The perfect match for your project